A Memorable 25 years for the Mind Sport of Memory

Welcome to the home of Mind Sport of Memory 

The Mind Sport of Memory was jointly founded by Tony Buzan and Raymond Keene OBE in 1991 when they staged the very first World Memory Championships. The created a competition format based on ten memory disciplines which is still used today in competitions around the world.
The vision of the World Memory Sports Council is
to put memory skills training and mental literacy skills at the heart of the education system worldwide
to make learning mental literacy skills and memory techniques accessible to all irrespective of income, culture, circumstances, location, age, or gender
to inspire people to take up the sport at every level by the achievements of our elite mental athletes
to raise the profile of our memory stars and to ensure they receive the international recognition that their achievements so richly deserve
to promote the highest levels of integrity, ethics, values and sportsmanship throughout the sport
to attract commercial sponsorship to be able to support the educational and charitable objectives of the organisation
to grow the sport in all continents and to eventually make it an Olympic sport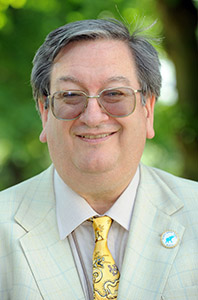 Joint founder of the sport Raymond Keene OBE,  has the executive role of Global President of the Sport.  Joint founder Tony Buzan continues his role as Ambassador Emeritus for the sport.
There are five separate regions for the sport worldwide, each run by a Regional President.  They are:  Dominic O'Brien for the UK, Europe and Russia;  Dr Manahel Thabet – Middle East and Africa;  David Zhang – Asia Pacific Region; Prince Marek Kasperski – Australia and New Zealand;   Michael Gelb – North America and Canada; and  Dr Jorge Castenada – South American Region.  The regional presidents will be responsible for the National Memory Sports Councils in their territories, plus all certification and accreditation.
One of the most successful achievements of the past 25 years of the sport has been the exceptionally high level of arbiting of memory competitions by Chief Arbiter Phil Chambers and his international team of voluntary arbiters worldwide.  Some time ago The Guild of Mind Sports Arbiters was formed to train, develop and certify volunteer arbiters. Phil Chambers has now been appointed Life President of G.O.M.S.A in recognition of his outstanding contribution to the sport over the last 25 years.
"This is an exciting moment for the Mind Sport of Memory," says President Raymond Keene. "The last 25 years has seen interest in competitive memory grow in every continent.  The sport now needs to be moved onto a more professional footing to better support our competitors, our competition organisers and fulfil our vision to put memory skills training and mental literacy skills at the heart of the education system worldwide. I am excited to have such  a strong line up of Regional Presidents who will be Ambassadors for the sport in their territories and attract the attention of governments, educationalists and commercial sponsors."

 The Brain Trust Charity is the official Charity of the World Memory Sports Council.  The mission of the charity is To promote research into study of thought processes, the investigation of the mechanics of thinking, manifested in learning, understanding, communication, problem solving, creativity and decision making; to disseminate the results of such research and study and to promote generally education and training in cognitive processes and techniques and to develop and exploit new techniques in cognitive processes.

The Brain Trust also provides financial encouragement for mental awareness and practical cognitive activities of all kinds.To donate to the Brain Trust Charity or to support its work in any way please feel free to contact info@braintrust.org.uk
Our representation worldwide includes London, Cape Town, Dubai, Hyderabad, Liechtenstein, Mexico City, New York, Santa Fe, Shanghai and Sydney.

Location: Shenzhen, China.  December 8th -12th

On the 10th of January the press conference took place in the Beijing National Convention Centre to launch the countdown to the 2017 World Memory Championship with over 200 people in attendance .
Present at the event was the global president Raymond Keen OBE and the eight times World Memory Champion Dominic O'Brien, David Zhang the president of the Asia Pacific Region of the World Memory Sports Council the media, sponsors, and members of the organising team.
This will be the 26th World Memory Championship since the sport was founded by Tony Buzan and Raymond Keene in 1991.  Work is now underway to select the venue for the Championships and a further announcement will be made shortly..
In addition to the World Memory Championships which will be taking place in December, it was also announced that the first China Schools Memory Championships will also take place this year.
The location will be Shenzhen, in southeastern China. It is a modern metropolis that links Hong Kong to China's mainland. It's known for its shopping destinations, including Luohu Commercial City, a massive mall with a vast array of wares, from tailors' custom clothing to faux designer bags. The city also features contemporary buildings, such as the 600m-tall skyscraper Ping An International Finance Centre, and a number of amusement parks.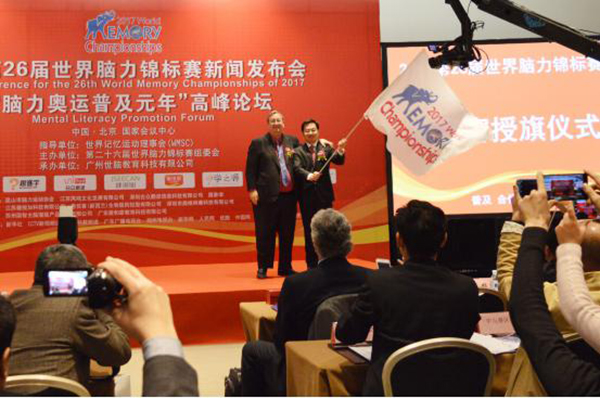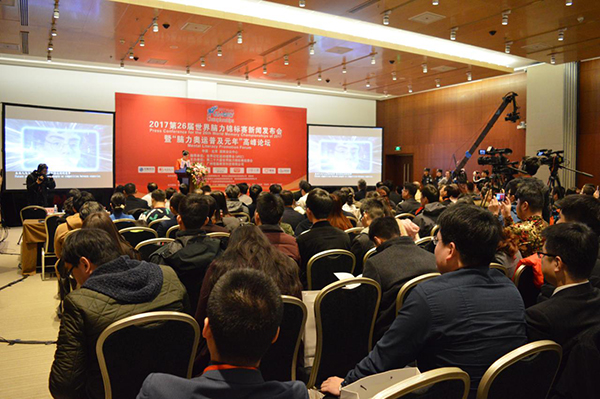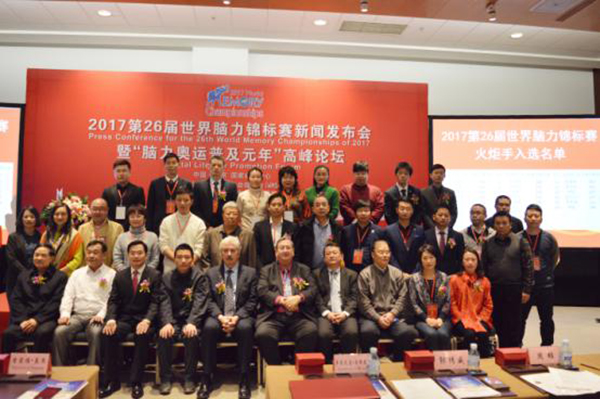 Brain Trust Charity
25 Year Celebratory Dinner. Tuesday 14th April 2015

A fabulous Banquet held at the RAC in Pall Mall and hosted by Dr Manahel Thabet.

I am trying to re-enact the feat by Simonides of Ceos in 5th Century BC when he named all the dinner guests from memory after they were sadly crushed to death when the building collapsed. Fortunately the RAC has very sturdy walls so thankfully the guests remained fully functioning breathing beings.
Thank you to the Brain Trust Charity for presenting me with a lifetime achievement award: A beautiful Crystal "Ace of Spades" presented by Chess Grandmaster Raymond Keene OBE.
Also, the re-launch of Synapsia brain magazine by Brain Trust Founder Tony Buzan:
Memory Slam
Congratulations to George Watts who wins our new format for the UK Schools Memory Championships:
Memory Slam, the last in Watch's season of factual entertainment pilots, combines documentary with the tension of a real-world competition, following gifted youngsters at the final of the UK Schools Memory Championships.
Co-founded by Dominic O'Brien, the UK Schools Memory Championship has established an enviable reputation for helping students acquire powerful mental skills to improve both learning and self-confidence.
And now, for the first time in its seven year history, the eight highest ranked competitors from eight UK regions were invited to London to take part in a televised final, which also went behind the scenes to discover what it takes to become a national memory champion.
By the end of this nail-biting contest one winner was crowned the UK Schools Memory Champion 2014: George Watts from Cardiff.
Take a look at the clip above to see them in action. Think you've got a good memory? Take a look at what these kids have to do! It's no Generation Game, er is there a cuddly toy?
Rachel Riley now uses Memory techniques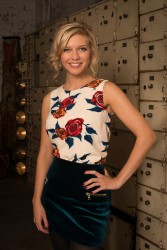 After working on the show "Memory Slam" :
" Yeah, I've started trying to do it on Countdown with names, because so many contestants come through. We have at least six a day so I'm just trying to imagine them in weird situations doing weird things! That's the thing: it's all about building mental images and the weirder the images the better. But you do remember things; they do stick in your mind for a lot longer."
Full interview with the Guardian
2014 WMC  
12th – 14th December
Haikou, Hainan China
Congratulations to Sweden's Jonas von Essen who wins the 2014 World Memory Championships from a field of  more than 160 competitors from 20 countries!
Jonas von essen
In a nail-biting final Jonas von Essen the 2013 defending champion clinched the Championship by successfully memorising a deck of shuffled playing cards in 35.55 seconds.
Simon Reinhard from Germany attempted 18.72 seconds which would have secured victory for him. However, it was just too much of an ask for Simon and after hitting an error on the third card he showed true sportsman-like generosity by immediately congratulating Jonas on a well-deserved win.
A strong performance was seen from Mongolia with four competitors in the Top Ten including bronze.
Gold: Jonas von Essen from Sweden
Silver: Simon Reinhard from Germany
Bronze: Sengesamdan Ulziikhutag   from Mongolia
4. Marwin Wallonius Sweden
5. Boris Konrad Germany
6. Tsogbadrakh Saikhanbayar Mongolia
7. Zheng Aigang China
8. Enkhmunkh Erdenebatkhaan Mongolia
9. Nelson Dellis USA
10. Bat-Erdene Tsogoo Mongolia
For full details of the Championships Stats follow this link:
2014 World Memory Championships Results
More on the Championships…
Overall Team  Ranking by Country:

The 23rd World Memory Championships. 10 -14 December in Haikou, Hainan (Island), China's Most Southern Province.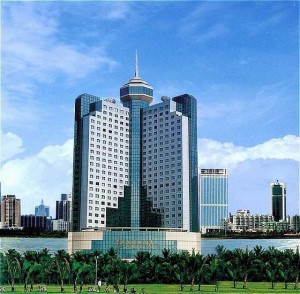 | | | |
| --- | --- | --- |
|  7th – 9th Dec | | Arrivals, Orientation, WMSC Meeting |
|  Wed 10th | Day 0 | Registration and Arbiter Training |
|  Thurs 11th | Day 1 | Competition |
|  Frid 12th | Day 2 | Competition |
|  Sat 13th | Day 3 | Competition |
|  Sun 14th | Day 4 | Closing Ceremony Daytime at Sports Stadium |
About the Venue
Haikou on the northern coast of Hainan Island is the capital whilst Sanya is a well-known tourist destination on the south coast. Population 9 million 1 hour flight from Guangzhou or Hong Kong Will this give a competitive advantage to the 50% of competitors who flew half way around the world to compete in last year's championships? Will be interesting to see what happens when the Jet Lag is on the other foot!! See you there!! Did You Know… The first World Memory Championships took place in London in 1991
World Memory Champions
Most Wins
Dominic O'Brien
8
UK
Ben Pridmore
3
UK
Andi Bell
3
UK
Jonas von Essen
2
Sweden
Wang Feng
2
China
Clemens Meyer
2
Germany
Johannes Mallow
1
Germany
Dr Gunther Karsten
1
Germany
Jonathan Hancock
1
UK
Ten different disciplines are conducted over the three days of the World Memory Championships. They are:
1. Names & Faces 15 min
2. Binary Numbers 30 min
3. Decimals 60 min
4. Abstract Images 15 min
5. Speed Numbers 5 min
6. Fictional Dates 5 min
7. Playing Cards 60 min
8. Random Words 15 min
9. Spoken Numbers  1 per second
10. Speed Cards 5 min
Scores are cumulative. The player with the most points at the end of the three days of the Championships is crowned The World Memory Champion for 2014.
There are four Age categories for competitors in a Memory Championship: Kids – must be 12 years or under in the calendar year of the competition. Junior – must be between 13 and 17 years old in the calendar year of the competition.
Adult – for those between the ages of 18 and 59 in the calendar year of the competition. Senior – for those 60 years and over in the calendar year of the competition.
Junior and Kid competitors may elect to compete in an adult competition if they desire. Their results will be listed separately from the Adult competition. MEDIA ENQUIRIES Please contact Chris Day, General Secretary WMSC Telephone +44 (0)7802211587 email: secretary@worldmemorychampionships.com
Tony Buzan is acclaimed as the world's most innovative educator. His passion is to teach children how to Use Their Heads and to acquire the essential skills of Mental Literacy. These include the Keys to Creativity, the Powers of Memory, Speed Reading and IQ, all channeled through his unique invention of the Mind Map. In search of his Quest, Tony has addressed, by Royal Invitation, the World's Intellectual Elite at a conference of Nobel Laureates in Jordan. He has entranced vast crowds of aspiring schoolkids in Sierra Leone, Soweto and Sri Lanka. These are but a few of the destinations where he has carried the flaming torch of his powerful and inspirational message. "My dream is to Enlighten the Planet" Tony Buzan
Now Tony has joined forces, with the Educational Philanthropist, Dr Manahel Thabet, President for MENA"(Middle East and North Africa)" of the Global Brain Trust Charity to unleash the vast untapped resources of the planet's young and educationally deprived.
Read more
…
Study Finds Learning by Repetition Impairs Recall of Details
Technique does enhance key facts in memories but blurs nuance and complexity. When learning, practice doesn't always make perfect. UC Irvine neurobiologists Zachariah Reagh and Michael Yassa have found that while repetition enhances the factual content of memories, it can reduce the amount of detail stored with those memories. This means that with repeated recall, nuanced aspects may fade away. In the study, which appears this month in Learning & Memory, student participants were asked to look at pictures either once or three times. They were then tested on their memories of those images. The researchers found that multiple views increased factual recall but actually hindered subjects' ability to reject similar "imposter" pictures. This suggests that the details of those memories may have been shaken loose by repetition. This discovery supports Reagh's and Yassa's Competitive Trace Theory – published last year in Frontiers in Behavioral Neuroscience – which posits that the details of a memory become more subjective the more they're recalled and can compete with bits of other similar memories. The scientists hypothesize that this may even lead to false memories, akin to a brain version of the telephone game. Read more…
Scientists reverse memory loss in Alzheimer's-afflicted mice
April 24, 2014 11:21am
MADRID, SPAIN – Spanish scientists have for the first time used gene therapy to reverse memory loss in mice with Alzheimer's, an advance that could lead to new drugs to treat the disease, they said Wednesday.
The Autonomous University of Barcelona team injected a gene which causes the production of a protein that is blocked in patients with Alzheimer's into the hippocampus — a region of the brian essential to memory processing — in mice that were in the initial stages of the disease.
"The protein that was reinstated by the gene therapy triggers the signals needed to activate the genes involved in long-term memory consolidation," the university said in a statement.
Gene therapy involves transplanting genes into a patient's cells to correct an otherwise incurable disease caused by a failure of one or another gene.
The finding was published in The Journal of Neuroscience and it follows four years of research.
"The hope is that this study could lead to the development of pharmaceutical drugs that can activate these genes in humans and allow for the recovery of memory," the head of the research team, Carlos Saura, told AFP.
Alzheimer's, caused by toxic proteins that destroy brain cells, is the most common form of dementia.
Worldwide, 35.6 million people suffer from the fatal degenerative disease, which is currently incurable, and there are 7.7 million new cases every year, according to a 2012 report from the World Health Organisation.
In 2010 the total global societal cost of dementia was estimated to be $604 billion, according to Alzheimer's Disease International, a federation of Alzheimer associations around the world.